Birthday!
Holy crap I'm twenty-two years old today.
Currently sitting at work now trying to write a review for these CSCW research papers on collaborative software development and feeling the sway of too little sleep. I couldn't lay still last night so it looks like I may have to tap that Power Bar today afterall.
Nimbus is sick!! Yesterday in the Group Room I opened up my laptop only to see the screen twitch out on me as I screamed in horror! Our resident Mac-expert Sean tapped him a little until Dan looked up and said the ever fatal, "Your shit's broke, dawg." But all is well, Nimbus is in the care of the Apple folks for now, no questions asked. No laptop-gallivanting for seven days or so though. Even when at home last night, instinctively kept reaching for my iBook to find it not in its case and eventually settled in front of my much-neglected PC (with its oh so cool broken keyboard).
Anyway, last night I went out for an early-celebratory ice cream with my old roommates et al. (I'm going to get crap for using et al. aren't I?) Muchas thanks for coming out!! It was good to see your faces. It was way fun, like face-hurts-from-smiling-fun. Looking forward to bowling next week!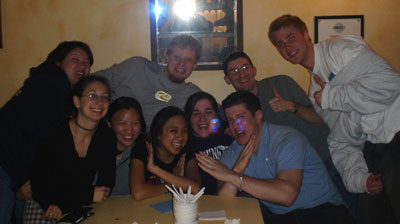 Cynthia, April, Angie, me, Will, Katie, Paul, Jason, some random guy
@ The Mix
So 22. Waiting for that to settle in.
Thanks for the birthday txts, IMs, and eCard that started my morning. =)