Anniversary
Happy one year, Ryan Prins. :O)
<3 Himay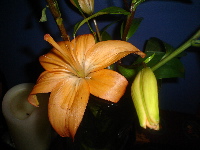 <– I got lilies! =)
To celebrate, on Saturday Ryan and I went to the Washington State History Museum where we learned fun state facts. I know you're dying to know, so here are two off the top of my head:
My home county (Kitsap) was actually orginally named "Slaughter County" after its founder.
Nearly 1/3 of the residents in Hoovervilles in Washington were Filipinos! *Gasp*
Okay well there was a lot more, but I figured I'd spare you all the excitement. It was pretty cool though. I had never really liked Washington state history in particular. Growing up, you could only hear so much about glacier formation and Lewis and Clark 'til you were convinced that that was all the history your state possessed. Going to this museum for the first time, it was good to learn other things and see national history (something I'm much more interested in) played out in a local context.
The touring Smithsonian 9/11 exhibit was the real reason we came out to the musuem and it lived up to its hype. I'd recommend checking it out. What I found to be particularly cool was just the collection itself and the stories that corresponded to each item.
After the musuem, it was dinner at Tacoma's Old Spaghetti Factory and then Garden State on DVD. While I did have my heart set on re-watching The Last Samurai (which was unavailable), Garden State was good. Was prompted to rent it based on Kevin's review months ago. Anyway, that was our day yesterday. For lack of a better concluding remark…the end!