Cancun, woOO!
Friday after my last final, I left with Ryan and David from Seattle to meet the rest of the INFO crew for…SPRING BREAK 2005 – Cannon Beach! Little did we know the trip would be renamed, "Storm Kimiko – Wind Blast Battle 2005," but I'll get to that later.
After a pretty chill drive down to the Oregon coast, we met up with the rest of the crew at our inn, and the twelve of us settled into the our two rooms. The night was pretty chill, had an adventure driving across the street to the market, and had a microwave burrito, Jessica's beef jerky, and Sean's Pringles for dinner. Later, went out and had my first look at the Oregon coast, albeit it a dark one, it was pretty awesome to be by the ocean. The beach was a quick three-minute walk away and it was fun running around with Anthony and Tho that night, goofing off, parrying attacks. It was a great way to start the trip.
The next morning we were up way early, and you could see in everyone's faces that no one got much sleep the previous night. Our room (Ryan, David, Kat, Kevin, Darrin and I) went out to Pig 'N Pancake for breakfast. There's something innately good about starting the day off with chicken fried steak. Needless to say, it was a good breakfast. Afterward we walked around checking out the little shops and galleries and after running into the rest of the crew, got into our cars and hit up Seaside (as recommended by a cashier) to entertain ourselves. The weather was wet and cold, as expected, but nothing too unordinary.
At Seaside we engaged in $1.50 mini-golf, $1.50 bumpercars, and I bought myself a chai latte (the weather insisted) for $1.50. Yeah, go Seaside. Oh and I played Tho in Battle Toads at the arcade, ah hardcore. I'd also like to point out that in mini-golf I pulled two (count 'em) hole-in-one's! Yet, ultimately only placed third. Alas. I did buy a brand new trucker hat though; estaba contenta.
After an afternoon in Seaside we bummed around the inn. The weather ceased raining so we decided to finally hit the beach. The wind we experienced was insane. You couldn't face it head on with your eyes open lest you wanted a sand blasted face. But words will not suffice!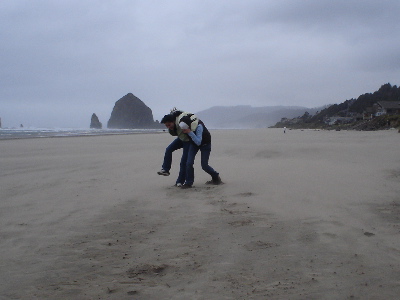 > Video 5.1 MB – The Wind!
> Video 2.84 MB – Me being a dork
After getting beat down with wind, we went back to the inn to recharge. Afterward it was off to dinner at Pub and Grub (the restaurant was chosen solely on the name) and I had some hella good BBQ chicken. Then it was to the local Safeway and Rite Aid for stuffs, where Ryan had a run in with the Oregon law. Imagine it pouring rain at night, getting into the car after buying a pack of beer, and looking outside your window to see Ryan suddenly surrounded by three police officers. A little odd. Once he ensured that we were indeed all of age and the beer was not stolen, we headed back to the inn. The night was pretty fun hanging out, minus the Real World drama that is inevitable when you have twelve folks sharing a small space, but otherwise fine.
Sunday started much later (thankfully) and we all headed out to Ecola State Park. This is where mother nature really pwned us. See here.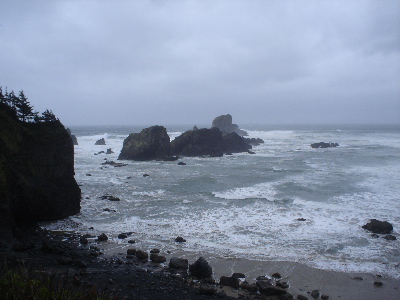 The view was pretty amazing. The weather, pretty miserable. It was drizzly, windy, and cold (like the entire trip) but being the adventerous folk that we are, we headed down closer to the view for photos. The route to the shore wasn't exactly a route, nor a path for that matter. Its steepness deterred most of the crew from heading down ("How are you supposed to get back up?!") but Darrin, Ryan, Tho, and Anthony plunged downward nonetheless.
> Video 9.74 MB, The Descent
> Flickr Pic of Ryan and Trevor
David and I followed suit later in the game but only made it halfway down before changing our course of action. The wind picked up and freezing rain started to fall. It was such an awesome trip running around, gripping onto rocks, jumping over streams of water. Sometime when the weather really got bad, climbed back up to the car. Jumped in completely soaked, hands numbed with cold, splattered with mud, out of breath and completely high off of the sequence of events.
Drove home, changed into dry clothes, and went out to Mexican food down the road for lunch. Afterward we all crashed at the inn, having one's ass kicked my nature really takes the energy outta yah. We watched Space Balls and I nodded off. The sun came out as I woke up and hit the beach one last time to catch what sun we could of the trip. The views were great, but the wind and cold was still a bit much and as it started to rain again, we headed back.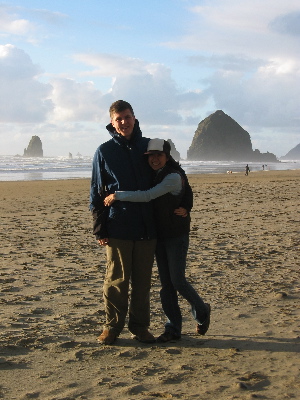 The rest of the evening was pretty chill. Bowling and then time at the inn, eating leftovers and watching Naruto with David and Tho for a couple hours. It was a good night. Monday we left early, had lumpia at Anthony's grandparents' house in Portland and drove back up to Seattle.
Whew.
And that would be the weekend at Cannon Beach! The end!