Hiking to Otter Falls
On Saturday, Ryan, Kevin, Taylor and I hiked to Otter Falls near Middle Fork, totaling 10 miles roundtrip! The trek was certainly worth it–Otter Falls is a pretty epic "hidden gem", if I ever saw one.
First, to give you a sense of scale, here are the falls as viewed across Lipsy Lake. Find Taylor in the lower-right corner.
And here's me and Kevin scuttling on its steep surface:
The view looking straight up from its base:
The guys looking up towards the falls: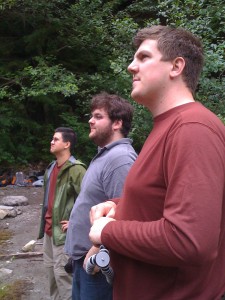 Needless to say, the falls were pretty amazing to witness. I would highly recommend anyone in the area to make the trip. The funny thing is that we all found out about this place through our RSS feeds, specifically through this blog post. The Internet got us outdoors, go figure.